i can only be
Mary lane
"IF YOU DON'T DIG THE BLUES YOU HAVE A HOLE IN YOUR SOUL"
- Mary Lane
Run Time
59 minutes
Log Line
Born in 1935, Chicago Singer Mary Lane is one of the last living legends of American Blues. If only the world knew.
Synopsis
At 82, Mary Lane is one of the last legendary Blues musicians that made the Great Migration from America's south. Although Mary is widely respected in Chicago, she has never gotten the wider recognition she deserves. I Can Only Be Mary Lane follows Mary as she records just her second studio album and first in over 20 years. Her producer thinks it could potentially win her a grammy, if only they can get it done.
The Artist
A longtime staple of Chicago's West Side Blues circuit, singer Mary Lane was born November 23, 1935 in Clarendon, Arkansas. After honing her skills in local juke joints in the company of Howlin' Wolf, Robert Nighthawk, Little Junior Parker and James Cotton, Lane relocated to Chicago in 1957; backed by Morris Pejoe, she soon cut her debut single "You Don't Want My Lovin' No More" for the Friendly Five label. A favorite among peers for her dulcet tones, she nevertheless did not record again for several decades, remaining virtually unknown outside of the Chicago Blues faithful.
Jesseca Ynez Simmons
Director | Producer | Cinematographer | Editor
Jesseca is an award-winning filmmaker and interdisciplinary artist. Jesseca was a finalist for the 2016 American Society of Cinematographers' Vilmos Zsigmond Award and a 2015 Southern Exposure Film Fellow for the Southern Environmental Law Center in Birmingham, AL. Her directorial projects have gone on to show at over 50 festivals worldwide and have garnered numerous awards. Jesseca also works as a cinematographer and her images have been screened at the Int'l Documentary Film Festival Amsterdam (IDFA), Hot Docs Film Festival, Chicago Int'l Film Fest, DocLisboa, Sidewalk Film Festival as well as on National Geographic. Originally from the Bay Area, she received her BA in Politics from the University of California, Santa Cruz. She then moved to the Midwest to earn her MFA in Documentary Media from Northwestern University where she was invited to continue post-MFA as Filmmaker in Residence. Jesseca is currently an Assistant Professor in the Department of Communication at the University of Dayton.
João Queiroga
Co-Producer | Editor
João Queiroga is a Portuguese award-winning director, editor and educator based in New York City. His work has been seen internationally including at the International Documentary Film Festival Amsterdam (IDFA), Hot Docs Film Festival, DocLisboa, British Film Institute and many others. João holds an MFA in documentary media from Northwestern University's School of Communication. He is a Calouste Gulbenkian scholar, a Hoffman scholar, a Davis UWC scholar, and a Fulbright recipient. João has taught at Northwestern University in Doha, Qatar, and is currently teaching at New York Film Academy.
Carlos Cova
Cinematographer | Colorist
Carlos Cova is a Venezuelan filmmaker, editor and post producer based in Barcelona, Spain. His films have screened at various festivals, including DocuWest International Film Festival, the Imperial War Museum Short Film festival and Chicago International Film Festival, where his short documentary film FRAGMENTS received an honorable mention. Carlos holds a degree in film production from the Universidad de Los Andes (Venezuela) and a MFA in Documentary Media from Northwestern University. Carlos has also been part of the post production team of several feature length films, both narrative and documentary, such as: Desde Allá (From Afar. Venezuela. Golden Lion at the 72nd Venice International Film Festival), Abacus: Small Enough To Jail (Best Documentary Feature Nominee at the Academy Awards), Raising Bertie, Minding The Gap.
Justin Reifert
Producer | Cinematographer
Justin Reifert is a filmmaker, producer, and educator. He received BAs in International Relations and Russian Language from Michigan State University and a graduate certificate in Documentary Filmmaking from The Documentary Institute at George Washington University. At GW, he co-produced the documentary short Leaving Sharpe, which was selected for the DC Independent Film Festival and the Annapolis Film Festival. The film also won a CINE Golden Eagle Award. He received an MFA in Documentary Media from Northwestern University and served as Assistant Professor in Residence at Northwestern University in Qatar. This fall, he will join the faculty of Oakland University in Rochester, MI as Assistant Professor of Cinema Studies.
Collin Susich
Post-Production Sound | Cinematographer | Co-Producer
Collin Susich is an award winning audio engineer and musician specializing in post production sound. Collin's interest in film has lead him to work on genres ranging from fiction, experimental video art to feature length documentaries. In addition to working in post, he is an accomplished sound recordist. Collin has been a musician for 16 years and this experience has greatly informed his approach to capturing quality sound. He believes that sound is just as crucial as imagery and always strives to create an evocative sound design to bring the audience into the world of the film. Collin is a graduate of the Audio Engineering and Recording program at Indigital Institute of Recording Arts and is currently persuing his BA in Music Education.
News & UpdateS
June 14, 2019: Mary Lane RECEIVES Two 2019 Blues Blast Music Award Nominations!
Many congrats to Mary Lane for her multiple 2019 Blues Blast Music Award Nominations. She has been nominated for Best Female Blues Artist and for Best Traditional Blues Album. Her new amazing album "Travelin' Woman" was release by Women of the Blues Records earlier this year and it's creation is heavily featured in I Can Only Be Mary Lane. These recognitions are so deserved.
Go Mary Lane!
For full press release click here.
March 16, 2019: Mary Lane featured on NPR
At 83, Mary Lane still has it! To listen to full interview click here.
Thank you Melissa Block for interviewing the awe inspiring Mary Lane and for giving the documentary about her a shout out on the unparalleled NPR.
March 8, 2019: Chicago Blues Hall of Fame Singer Mary Lane Returns with Her First Album in 20 Years!
"Comes on Heels of Moving New Film Documentary, I Can Only Be Mary Lane"
"The 83-year-old chanteuse's new album promises to take the blues world by storm."
For full Press Release Click Here
JANUARY 2019:
Cook County Honors Mary with official PROCLAMATION
"NOW, THEREFORE, BE IT RESOLVED that the President and the Cook County Board of Commissioners, on behalf of the residents of Cook County, honor Mary Lane and praise her essential contribution to the health and viability of Cook County."
- TONI PRECKWINKLE, Cook County Board of Commissioners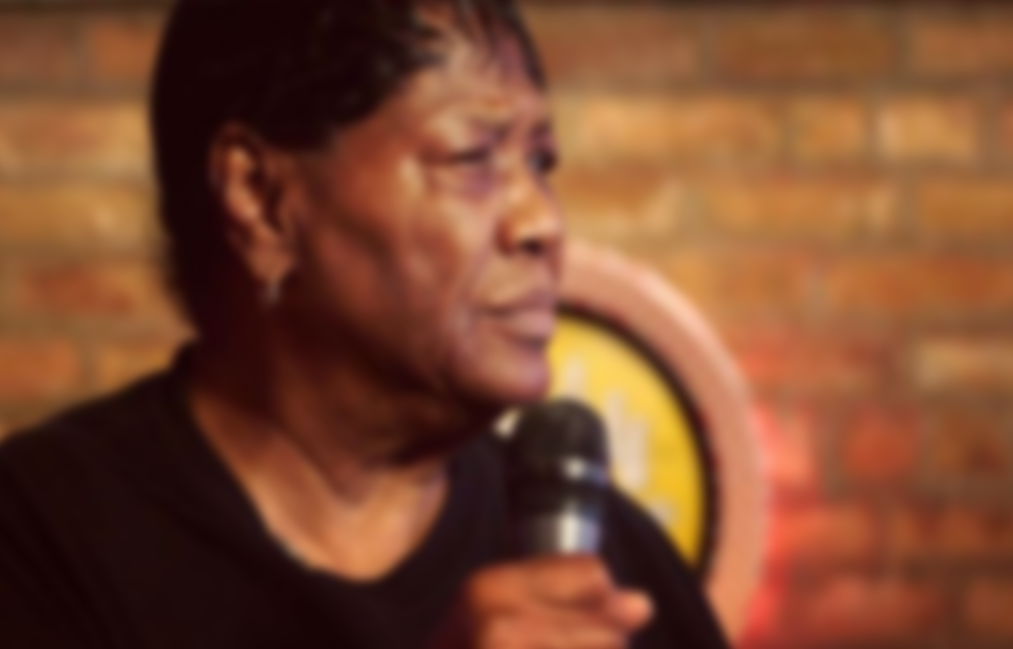 Mary Lane's Debut
Appointment With The Blues is Mary Lane's debut CD. The album was launched in 1997 when Mary Lane was 62-years-old. At age 83, Mary Lane released Travelin' Woman. The Making of is featured in I Can Only Be Mary Lane.
Don't see a screening near you? Reach out and request a screening of I Can Only Be Mary LAne Today!
Upcoming Screenings:
Baltimore International Black Film Festival - Baltimore, MD - October 8 - 14th
Albuquerque Film & Music Experience - Albuquerque, NM - September 26th
Past Screenings:
Macon Film Festival - Macon, GA - August 16th
Boomtown Film and Music Festival - Beaumont, TX - August 10th
Indie Gathering International Film Festival - Cleveland, OH - August 8 – 11th
University Film and Video Association Conference - Minneapolis, MN - July 30th – August 2nd
210 Live (Screening & Live Performance) - 210 Green Bay Road Highwood, IL - July 7th
Chicago History Museum - Chicago, IL - June 11th
New Haven International Film Festival - New Haven, CT - May 16th
Theater (Screening & Live Performance) - Skokie, IL - April 28th
Ozark Foothills FilmFest - Batesville, AR - April 26th
Capital City Film Festival - Lansing, MI - April 11 - 21st
Hot Springs Int'l Women's Film Festival - Hot Springs National Park, AK - 31st
Voices in Black and White Film Festival - Newark, NJ - March 30th
The Quarry Entertainment Center - Chicago, IL - March 25th
Fitzgerald's Night Club - Chicago, IL - February 21st
Big Muddy Film Festival - Carbondale, IL - February 20th
Women of the Lens Film Festival - London, UK - December 15th
Buddy Guy's Blues Club Legends - Chicago, IL - November 19th
Cincinnati Film Society's RiverReel Film Festival - Cincinnati, OH - November 14th
Doc' N Roll Film Festival - London, UK - November 8th - International Premiere
Queen City Film Festival - Cumberland, MD - October 7th
Santa Cruz Film Festival - Santa Cruz, CA - October 7th
Winner of the Director's Artistic Merit Award at the 2018 Santa Cruz Film Festival
University of Dayton - Dayton, OH - September 26th
OnScreen Local Film Showcase - Chicago, IL - August 26th – September 1st
Mosaic World Film Festival - Rockford, IL - August 26th
Contact
Sign Up for film Updates or to request a screening